Text Reminders for Patients
Learn about sending SMS appointment reminders to your patients. TextSpot provides all the tools you need to text your patients.
Whether you are a therapist, family doctor, or other medical care provider, reminders to patients are critical. TextSpot makes it easy to send text message reminders to your patients. Just create a free account, schedule your text message reminder to your patients, and relax.
No shows cost healthcare practices money. With a text message reminders to patients, you can make no-shows happen much less often. Read on to learn more about the benefits of sending text reminders to patients.
Why Send Text Reminders To Patients
There's many reasons you might choose to use SMS as a communication channel for your patients.
Many of your patients may prefer to receive text message reminders about upcoming appointments.
SMS messages have a 90% open rate and most text messages are read within 3 minutes of being received. It's an effective method of communication.
It's a great way to build and maintain patient engagement.
How to Collect Patient Phone Numbers
Before you start sending appointment reminders to your patients via SMS messages, you'll need your patients' phone numbers. This may not be difficult to acquire, but obviously, it's necessary.
We recommend asking your patients for permission to send them text messages and appointment reminders.
How to Send Patient Reminders
Here's how to schedule a patient text reminder using the TextSpot SMS software: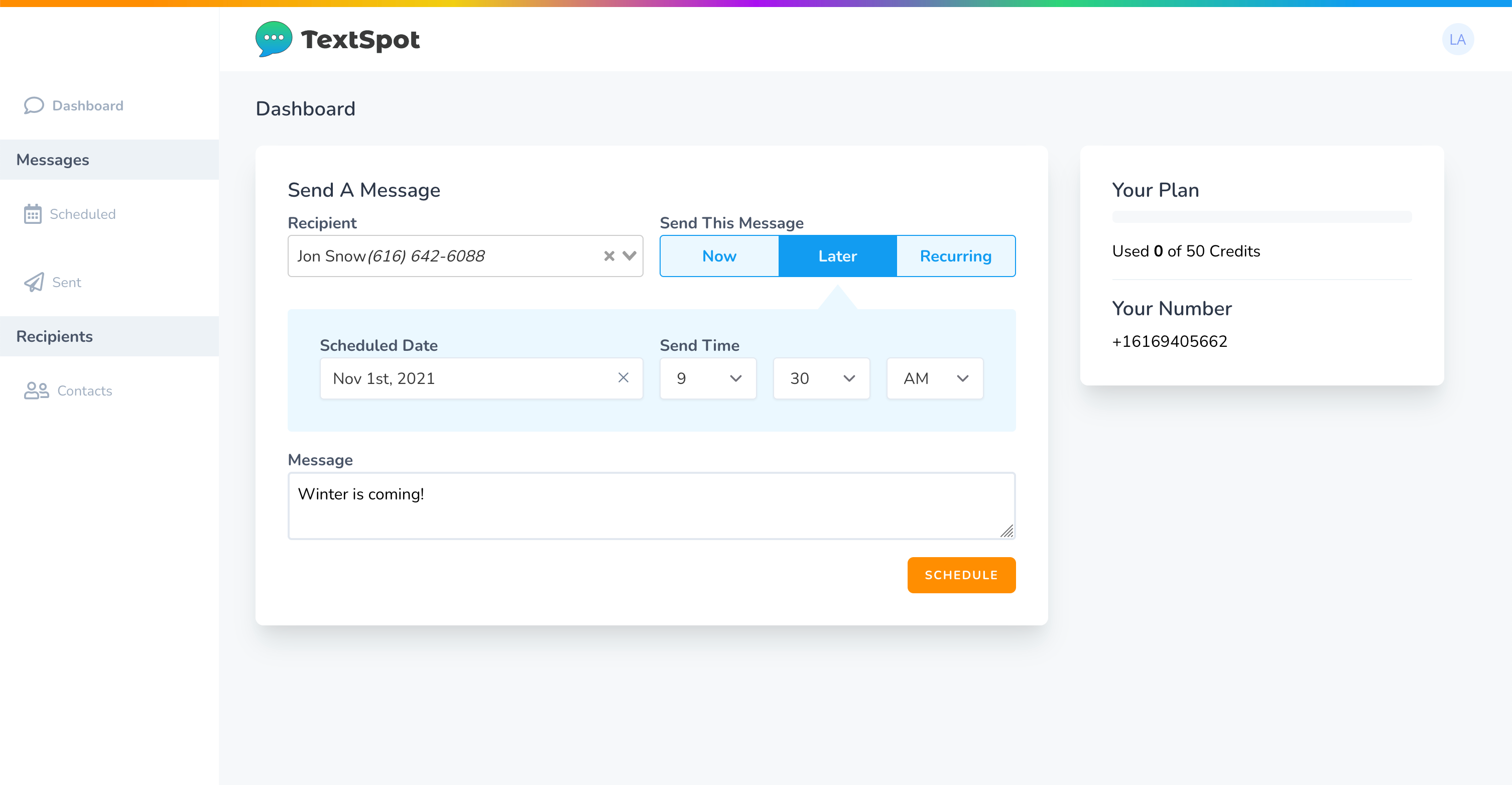 After you have signed up for a free account or are logged in to your TextSpot account, go to "Dashboard" on the left side.
Once you are at the Dashboard page you'll see a "Send a Message" box.
Select your Recipient or Group.
Select "Later" under "Send this Message" to select the date and time you'd like to send your message.
Enter your patient appointment reminder message in the "Message" field.
Select "Schedule" to have your message scheduled.
You also can send messages right away or even set up recurring text messages. Learn more about other features that will enhance your text reminders to patients.
Patient Text Reminder Don'ts
It's important never to share health information via SMS. Sensitive patient information should not be shared via SMS since you don't know who may have access to your patients device. Your patient's phone settings may also show the message on the lock screen of their device. It's best to simply use SMS to send appointment reminders and other non-sensitive information and communication.
What You'll Need to Text Patients
You'll need software like TextSpot.
You'll need access to patient names and phone numbers (in order to add them to your SMS patient reminder software).
You should get permission from your patients to send them reminders or other text messages.
HIPPA Compliant Text Messages
HIPPA/HITECH privacy and security is something to be taken very seriously. Violations can carry fines of up to $50,000. Phone calls don't leave records like text messages, which makes the threat of privacy violations higher for SMS.
If you're looking for HIPAA compliance, contact us. It is possible to make sure you are communicating with patients while being HIPAA compliant. W
Tips for Texting Patient Reminders
Keep your messages short and sweet.
For appointment reminders, don't forget to include the date and time in your message. Don't just say, "Don't forget about your appointment tomorrow."
Consider scheduling multiple reminders to patients. For example, send a reminder 3 days before an appointment and 2 hours before an appointment.
Ask your patients if they have any questions.
START FOR FREE. NO CREDIT CARD REQUIRED.
Create Account
Start sending and scheduling text messages to your patients today.
Create Your Free Account
Start sending and scheduling text messages to your patients today.
No credit card required. Takes 3 minutes.