7 Ways to Text from Your Computer
7 options and guides for texting from your computer. Learn about the options you have and how to start sending texts today.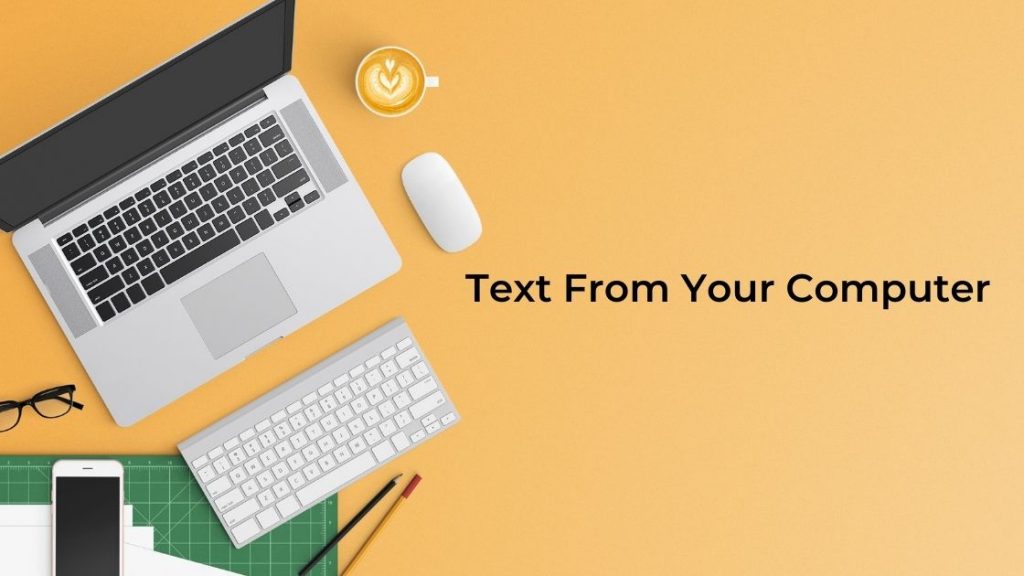 So you want to text from your computer. Great, you've come to the right place. TextSpot allows you to text from your computer, but our software isn't the only option you've got. Before selecting the best option for sending text or SMS messages from you computer, you should consider what you're trying to accomplish. This guide will help you determine what type of features you're going to need and what the best option is for you.
Available Features for Texting From Your Computer
First, what are you trying to send a text from your computer for? Consider these features:
Sending and receiving texts from your computer.
Mass texting, bulk texting, and group texting.
Sending QR codes.
Recurring texts.
Scheduled texts.
What You'll Need to Send Texts
You'll need a desktop computer, tablet, or any device that can access an internet browser.
You'll need a phone number (or multiple) to send texts to. I know kind of a given.
The recipient of the texts will need to be subscribed to a wireless carrier and have a mobile phone (Apple or Android phone for example).
In most cases, you'll need at least a little money to pay for the service.
7 Options for Sending Texts From Computers
TextSpot
Hey, we've got to promote ourselves a little. We've built a really awesome and extremely affordable tool for sending and scheduling texts from your computer. Check out our full list of features, including:
Scheduling texts.
Importing contacts and creating groups.
Sending from a private phone number.
Creating templates for sending texts regularly.
Recurring texts to send regular texts to individuals and groups.
Mass/bulk text messaging for sending group messages.
Google Voice
Google Voice offers options for personal and business use. You'll need a Gmail account for personal use and GSuite account for business use. Through their website you can send and receive text messages from your computer.
With Google Voice, you can choose a brand new number, free for personal use, or use your existing number to send SMS and MMS messages.
Text from Your Mac
Using the Messages application on your Mac is essentially the same as using the Messages app on your iPhone.
If you've got an iPhone and a Mac Desktop or Mac laptop, you can send and receive text messages from your computer. You can even send and receive texts from Android users. For a full guide on how to set this up, visit this article. You won't be able to send mass texts or have any advanced SMS features, but you can easily manage your personal phone number's conversations to communicate with your friends and family.
Text from Your PC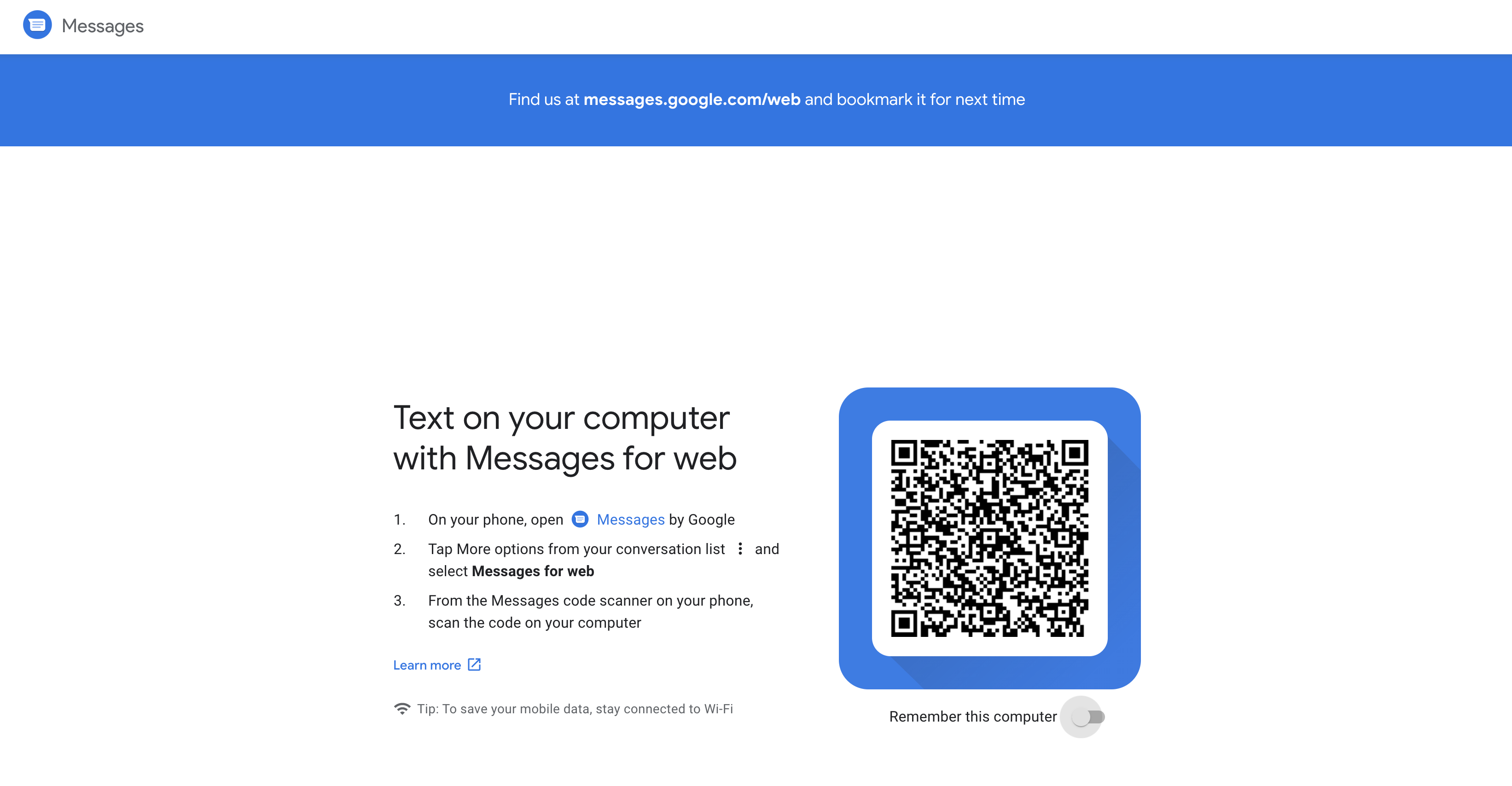 If you have an Android device and a PC, Google allows you to text from your browser with Android Messages. This does require that you use Android Messages on your Android device.
How to text from your PC:
Download the latest version of Android Messages to your phone.
Open up a browser (Chrome, Firefox, Microsoft Edge, and Safari will work) and go to messages.google.com on the computer you want to send a text from.
Now go to Android Messages on your smartphone. Tap "More options" from your conversation list and select "Messages for web."
Scan the QR code on your browser that you see after visiting the link above.
That's it. Your conversations should now be linked to this url. Save it and go back to it anytime to send texts from your PC or Mac.
Text via Email

This one is a great feature, but does require that you know the cell phone carrier of the number you are trying to text via your email address.. Luckily there are tools like FreeCarrierLookup.com that allow you to enter a phone number and find out who the wireless carrier is. That way you can send the message to the right place. If you want to send a text via email on your computer, you'll first need to open up your email software or go to the web page where you manage your email (like gmail.com, for example).
How to send a text message via email
Combine the phone number of the person you want to text with one of the following domains that correspond to their carrier:
AT&T: @text.att.net
Sprint: @messaging.sprintpcs.com
T-Mobile: @tmomail.net
Verizon: @vtext.com (or @vzwpix.com for photos and video)
Example: If the phone number you are sending to is (123) 456-7891 and the owner of that number is on AT&T, you would input the email address as 1234567891@text.att.net
Type your message in the body section of your email draft.
Press "Send" when you are ready.
That's it. No need to add a subject line since text messaged don't have those.
Long emails will be broken up into multiple messages and standard text message rates apply to recipients because the messages are being sent as regular texts.
Text via Your Wireless Carrier Website
Some wireless carriers allow you to log in to your account online and send text messages directly from your account. Check your wireless carrier to determine if you have this option.
Text from a Website for Free
Although many of these have limited features, since there are costs for companies to send text messages, there are several websites online that allow free text messaging services.
Cons:
you'll likely be bombarded with advertisements.
you'll likely have to upgrade to receive text messages.
you'll probably feel a little sketchy about sending text messages from these.
Pros:
they are free.
you can send to many different countries around the world.
Frequently Asked Questions
Can I send a text from my computer?
Yes, you can send a text from your computer. There are multiple options for both Android and iOS users. You can also send a text from your email account.
Can I send a text message from the Internet?
Yes, you can send a text message from the internet. There are multiple options available online, including free and paid services.
START FOR FREE. NO CREDIT CARD REQUIRED.
Create Account
Start sending text messages from your computer with TextSpot.
START FOR FREE
Create Your Free Account
Start sending text messages from your computer with TextSpot.
No credit card required. Takes 3 minutes.
"exactly what I was looking for"