TextSpot automatically sends a free compliance text message right before you message each a contact for the first time. Learn more here.
What Does the Compliance Message Say?
The compliance message contains information required by the CTIA. Here's an example:
You've agreed to receive messages from [ORGANIZATION NAME]. Reply STOP to unsubscribe. Msg&Data rates may apply.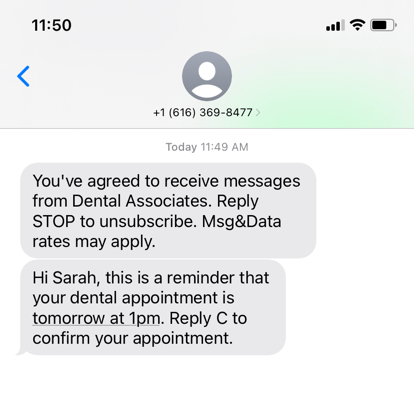 ORGANIZATION NAME will be replaced with the Organization Name you set when you created your account. You can change your account name in your profile. Typically, organizations use their business name so that the recipients of your messages will recognize them.
Why a Free Compliance Text?
We take compliance seriously at TextSpot and that's in your best interest.
No one likes to receive spam or phishing text messages to their personal phone number and we're doing our best to prevent that from happening on TextSpot.
Through the Telephone Consumer Protection Act (TCPA), the U.S. Federal Communications Commission (FCC) and wireless carriers' trade association, CTIA, have put together rules and regulations that organizations must follow when sending text messages over an application.
These rules include:
Obtaining express written consent in response to a TCPA compliant disclosure before sending promotional texts.

Disclosing your identity, the message frequency, how to opt out, and how to get help.

Noting that recipients could incur message and data charges.
Our compliance text will help make sure you are CTIA compliant. This message also helps prevent abuse of our platform.
How the Compliance Message Works
The first time you send a message to a contact, your contact will receive a free compliance text.
This protects them and you and will help make you CTIA compliant.
Your free compliance message does not ask contacts to confirm their consent because they should have already given it to you.
START FOR FREE. NO CREDIT CARD REQUIRED.
Create Account
Start scheduling, managing, and automating text messages today.
Create Your Free Account
Start scheduling, managing, and automating text messages today.
No credit card required. Takes 3 minutes.